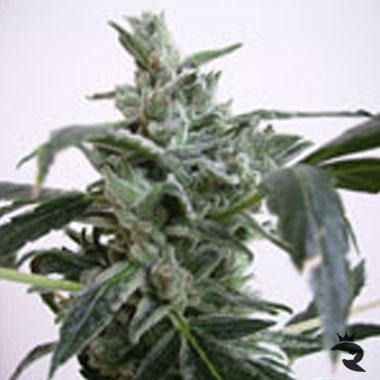 Short Stuff Seeds Blue Himalaya
By taking the most abundantly producing, most crystal encrusted Nepalese Kush plant they could find with their new automatic line and THEN adding in a complex Blueberry hybrid, Short Stuff Seeds has produced Blue Himalaya.
SKU
Short Stuff Seeds Blue Himalaya(1304)
All information on the Rhino Seeds website and any Rhino Seeds promotional material or packaging is for informative purposes only and is not intended to condone, promote or incite the use or cultivation of illegal and controlled substances. Please note that this information comes directly from the breeder and is readily available online. Please read our legal disclaimer for more information
Short Stuff Seeds Blue Himalaya is a hard-hitting wonder from the Far East! The breeders at this seed bank searched far and wide for a powerful Nepalese Kush to serve as a base for this new autoflowering strain. With the right touch of Blueberry and a healthy set of Indica genetics, this Eastern beauty will take your collection to the next level! Order your set of cannabis seeds today for a taste of this exotic strain!
This breeder has only been doing their thing for about three years, but their reputation is quickly overtaking some of the old-timers in the cannabis industry. Although Short Stuff has kept their catalog on the small side, each of their automatic strains is something truly special. If you haven't had a chance to check it out, order a set of Blue Himalaya seeds today to find out what you've been missing. You won't regret it!
When you receive your set of Blue Himalaya weed seeds, you'll have the benefit of years of breeding in the palm of your hands. This seed bank spared no effort in searching for a Nepalese Kush that provided the highest level of THC. In fact, the researchers could barely see the green for the glistening crystals that covered each frond. They crossed this lovely specimen with their own creation, an unnamed strain with top automatic qualities. Once these traits were perfected, they crossed the new hybrid once again with one of the tastiest, most aromatic Blueberries the cannabis community has ever seen. Finally, Short Stuff Seeds Blue Himalaya was born!
From beginning to end, Blue Himalaya is a small variety recommended for Sea of Green and general indoor conditions. With no need to separate individual seeds or vary the lighting conditions, this one is easy enough for the first-time collector. If you get to work right away, you'll only have to wait about 10 weeks to enjoy the wonderful mix of Indica and Ruderalis traits. The fat, dense nugs will fill the air with a fruity, blueberry aroma, and the smooth, juicy flavour will make your mouth water.
Short Stuff Seeds Blue Himalaya is an exotic import with a mysterious past. Order today to add these traits to your collection:
Autoflowering Cannabis Seeds
Blueberry and Kush
Ruderalis and Indica
Short Stature and Early Cycles
Order Short Stuff Seeds Blue Himalaya in packs of five or ten seeds today!
Short Stuff Seeds is the world's best source for high-powered autoflowering dwarves. These short & sassy cannabis seeds are incredibly fast, extra potent & extremely high yielding, especially for their size. Short Stuff Seeds has only been in business for about 3 or 4 years and the selection is fairly small, but each of these amazing weed seeds is truly unforgettable. The Rhino Team's top picks include hard-hitting Dr Feelgood & 18-inch tall Russian Rocket Fuel. Whether you go with a regular version or a feminized seed, you'll love the innovation offered by genuine Short Stuff Seeds!