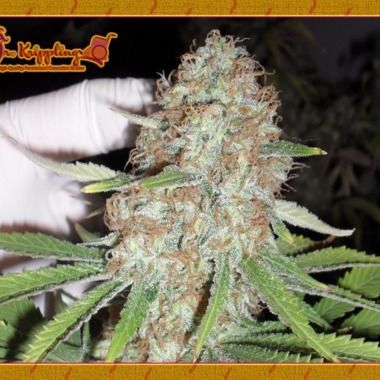 Devastating Stones - Killer Yields!
Get that famous Dr Krippling wheelchair ready 'cause you just might need it after you sample Blue Kripple's infamous wares! This is a true couchlocking Indica with record-breaking yields. If your knees don't buckle under the unbelievable weight, they will once the hard-hitting stones set in. All but the most tolerant should proceed with great caution!
100% Feminized Seeds
Astounding Yields
Potent - Up to 21% THC
Very Strong Odour
Tight, Dense & Sticky
All information on the Rhino Seeds website and any Rhino Seeds promotional material or packaging is for informative purposes only and is not intended to condone, promote or incite the use or cultivation of illegal and controlled substances. Please note that this information comes directly from the breeder and is readily available online. Please read our legal disclaimer for more information
1300 Grams from 1 Unbelievably Good Seed is Totally Possible!
Dude, do the math! That means Blue Krippling Feminized Seeds have the potential to deliver nearly 3 full LBs, over 11 QPs, 46 O's ... No matter how you count it, this bad-ass strain is very, very generous. Official testing revealed truly impressive yields that range from 450 to 800 gr/m2 inside or a whopping 650 to 1300 gr/seed outside. It's hard to believe, but absolutely true!
Blue Kripple Flowering Time = 7 to 9 Weeks Inside
Crazy Strong - up to 21% THC
Even Crazier Odour - You Will Need Control Measures!
Fat, Tight, Sticky & Everything Else Dank Bud Should Be
Dr Krippling Blue Kripple is equally impressive in the power department as long as you like a good stoned-to-the-bone couchlocker that goes from completely straight to thoroughly toasted right before your very eyes. This is an 85% Indica with up to 21% THC. These babies get right down to business!
For an incredible deal and the best customer service on the planet, buy your Blue Kripple Seeds from The Rhino. If our breeders don't act right when it comes to discounts, he pulls out the big guns & they change their tune real quick like. Lucky for you, Rhinos don't need money so you get all the savings!
Snag Your Blue Kripple Seeds Today - They're 100% Hardcore!
NB: The Blue Kripple Cannabis Seeds we sell are for saving not growing. So don't do it, don't ask us about it, don't even think about it! It's against the law in the UK, or didn't you know?
Blue Kripple is a powerful cannabis seed bred by the Dr Krippling Seed Company. Based in the UK with connections throughout Europe, Dr Krippling is on the cutting edge of seed development with unmatched levels of yield, power & even flavour. If you don't want to be disappointed, fill your basket with genuine Dr Krippling now!